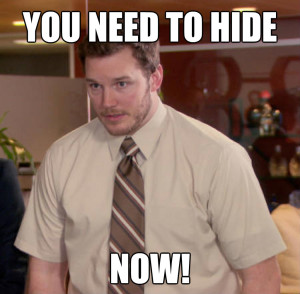 Everyone doesn't have a writer friend with more experience to tell them to stop doing the stupid things. So, I am telling you. That way lies danger! Here there be monsters! Back away slowly but back the heck away! And my dear baby minions of evil you should be afraid. There are monsters in Publishing Land, and they're out to get you.
I am totally serious.
When you finish your first book, you're going to feel like you can fly. It is absolutely one of the best feelings in the world when you create and complete a story. Here are some things about your precious baby book that you should know. (Also I detest people calling their books 'my baby', I am being sarcastic. That is off the charts creepy and weird.)
1.You'll immediately dash off a query letter and send it to literary agents.
Hold on there, Skippy. It isn't ready. You need to put it through a critique group, and make changes. Then put it under the bed and wait for at least three months. While you are waiting you're going to start another totally different story. Not the second book in your planned series, not a short story for an invisible anthology you hope to be in someday, a whole new story with a new world and new characters. It needs to have NOTHING to do with your last story. Are we clear?
You're going to want to skip the whole traditional publishing slow lane, jump right up there on Amazon, and give it away for free to build an audience.
Nope. Nope, nope, nope, you are not. You absolutely do not have permission to do this stupid thing. I can guarantee you that your story has more plot holes than the moon has craters. You're going to put it UNDER THE BED AND WAIT. You're going to do this because, as a person who wrote a first book I can guarantee that after you write three or four more books, you would DIE rather than have someone see that story. Yes,  it is that bad. First books are bad. Bad, bad, bad. First books that have not been through a critique group are worse than bad. If you don't have a critique group, and have extra money just leaking out of your pockets, you can pay to send it to an editor. They will tell you why it is bad.
Or, you can just write another book. It will be better.
LIKE A FREAKING MIRACLE, a publisher emails you that they want that first book, by golly. Why it will only cost you a few thousand dollars to MAKE YOU A STAR! You do the happy-happy-joy-joy dance and write out that check so fast that your pen melts from the heat.
You see, this is when I come over to your house and smack the stupid right out of you—I am not even kidding one little bit. Repeat after me.
Money goes to the author.
Money goes to the author.
Money goes to the author.
There are no miracles in publishing. There are what seem like miracles. You might consider Harry Potter to be a miracle but it wasn't. There were years and years of work by the author, years of experience from the agent, and even more work and experience from the publisher and the publishing team. A magic fairy did not bap the book into being. Another magic fairy didn't email the author and tell her that they would MAKE HER A STAR. Publishers do not email out of the blue. Not ever.
We will continue this later. Until then, don't you dare. Just sit there quietly and write.
Buzzy Mag Columnist & Pundit. Julie Butcher lives with her husband and six children on the fringes of Utter Chaos. She adores puppies, kittens, and thinks world peace would be awesome as long as stuff still blows up in the movies.