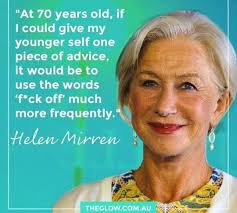 I was recently shocked and appalled to discover that America actually cares enough how Carrie Fisher has aged to make this a topic of conversation and debate.
This goes to show that I am, after all these years, still an idealist. Shit like this shouldn't surprise me, but it does. I'm well aware of ageism. I work in a clinic and I see it every day. Older people are discounted. It's frequently assumed that they are less intelligent, less competent, less important.
This, by the way, is a myth. I saw some research lately indicating that people who kept busy and active and continued to use their brains did not suffer a decline in cognitive function. And you've all seen the videos making the round of Facebook where people are shocked (SHOCKED, I tell you) to discover that an older person can still dance, or do gymnastics, or whatever.
I take exception to this. The people on my mother's side of the family – both women and men – have a history of being active and productive well into their eighties. It's not like there's some magic switch that flips over at sixty, or seventy, or whenever. The idea that you go to sleep one night a productive, active, human being, and wake up the next morning incapable of rational thought, sexuality, or going to the grocery store on your own, is ludicrous.
In the literary world we are all pretty tuned in right now to the idea of diverse characters – as long as they are queer people, or people of color. This is very important, and I'm glad that diverse people are being brought into books. But when it comes to ageism? I think there's a lack of awareness.
This is psychologically fascinating, I think. We are all going to be old some day, if we live long enough. So why are we so quick to dismiss the people in our communities who have been around for awhile?
When I was writing Dead Before Dying and Maureen showed up on the page, I was thrilled and delighted. She's a strongly independent, feisty, opinionated woman, made vulnerable by a serious injury and her upcoming sixtieth birthday. What could make for a better conflict in the character arc than a strong character facing an existential crisis while having to use all of her wits, experience, and skill to save not only herself but the people around her?
I had overlooked an important point.
At almost sixty, Maureen is too old for the market.
According to general industry consensus, people don't want to read about a woman of this age having adventures, even if she totally kicks ass. There was worry that a paranormal mystery set in a retirement home would be problematic as well. Readers wouldn't want to read a story set there in the first place, and senior readers might object to characters of their age being killed off as victims.
As a woman who is now past fifty, I object to all of this.
Older women can do cool shit. They still have emotions. They still have sex. They are the same human beings they ever were, only a little more complicated and with more life experience. This myth in our society that after some arbitrary cut off point we cease to have value infuriates me.
I'm further incensed by the idea that we shouldn't write about aging in genre fiction.
This is one reason why I love public figures like Helen Mirren and Dame Judy Dench. They are still out there making movies and telling it like it is. I aspire to be a feisty old woman myself someday, still writing, still having adventures, still learning new things.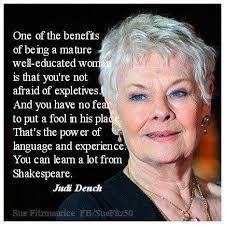 I'm grateful to Diversion Press for taking a chance on Maureen. And I'm inspired by all of the awesome women of a certain age who are out there doing cool shit and giving zero fucks what society has to say about it.
Kerry is the queen of the misfit story. She writes fantasy that has its teeth sunk into reality, mystery that delves into the paranormal, and women's fiction that embraces the dark and twisty realms of humanity.