Today we at the ELEW celebrate the birthday of our Blasphemous Dispensator of Expenditures, Seleste de Laney.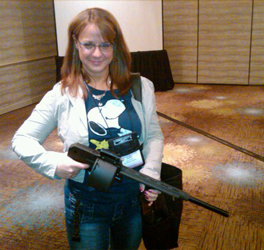 Seleste has been a member nearly since the beginning where she has embraced eviltry in all its forms. She writes All The Things (literally, all of them) raises both human children and furry ones, is going back to school, and she also looks better than you in a corset. Plus her cat's name is Boyfriend, so I'm pretty sure she's got better taste in men than most of us, too.
She probably released three books and wrote ten thousand words before breakfast, so you should fall down in submission and praise the greatness that is Seleste not only on her birthday but every day. We at the ELEW are very fortunate to have her.
Happy Birthday, Seleste!