Ahhh, October! No matter what stupid Twitter clickbait ads say, SUMMER IS FUCKING OVER! FOR REALSIES! DOOR. ASS. OUT.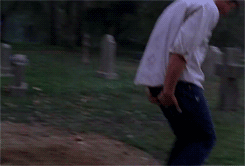 It's time for pumpkin everything and fuzzy pajamas. But that's neither here nor there.
The point of this post is to clue people in on a little-known fact:
Just because you can, doesn't mean you should.
Now, what do I mean by that?
Well, here's the thing:
You are not entitled access to anyone just because they are accessible.
Let's try that again, shall we? In plainer terms:
DO NOT BE THE REASON WE CAN'T HAVE NICE THINGS.
From the link above: "'I decided I don't want to be accessible to thousands of people who think because I work on a TV show that I owe them myself all the time,' Zuke wrote in a now-deleted tweet."
My point here is this: NOBODY OWES YOU ANYTHING and by the same token, YOU DO NOT OWE ANYONE JACK SHIT.
Just because you have a blog (such as this one) or FB or Twitter or Instagram or whatever else is going on out there these days ya'll kids are doin' (get off my lawn) doesn't mean ANYONE has the right to tell you how to run it.
Now, this does not include Terms of Service agreements or anything like that. For the record, the First Amendment guarantees freedom of speech, meaning the United States Government can't arrest you for things you say (unless it's a threat to the President, in which case some men in expensive black suits are going to want a word with you).
The First Amendment does NOT guarantee you the right to have people tolerate your vitriol.
What does all this have to do with your writing and being evil? Plenty.
Here's a weird thing that needs clarifying: if I tweet, and then you respond, and then I respond, it's called a conversation. Not an attack.

— Victoria/V.E. Schwab (@veschwab) October 2, 2016
If you enter a conversation with something to say, and then people respond, YOU are not automatically being attacked.

— Victoria/V.E. Schwab (@veschwab) October 2, 2016
ENGAGEMENT is not by default ATTACK simply because it doesn't go the way you want.

— Victoria/V.E. Schwab (@veschwab) October 2, 2016
Those tweets are just a sample of what's out there about entitlement and the right to engage and so on.
More than once this blog and the writers who contribute to it have been subjected to some asshat who thinks they are entitled to harass the author of a particular post because…well…I'm not going to get into the psychology of asshat feels. There's a lot of words that end in -ist and -ism that go into that soup, and I don't feel like cooking tonight. Suffice to say that when you're a writer, even a modicum of "author-level fame" can make fans feel entitled to your time, your work, your worlds…anything. (We shall not discuss author feelings about fan fiction at this time. We'll save that for another post.)
Mostly accurate although I've met a few authors who delight in the personal attention even author-level microfame accords. https://t.co/9f0R6El58o

— John Scalzi (@scalzi) October 2, 2016
With feelings of entitlement come all sorts of side dishes, and one of those is Platform Hijacking. This is where a person pretending to be a (or is a genuine) fan of your *insert platform here* takes over your platform and grandstands, making it all about themselves and not your content. You have more readers, followers, eyes on your paper than they do, and they find their genius is overlooked, so they insert themselves into your space and proceed to take it over.
Of course, they don't see this as hijacking. They see this as harmless engagement, or educating you, or pointing out something you missed/overlooked, or any other word. They don't see this as intrusive or rude. When you point out to them that their behavior is inappropriate, more often than not they take offense, and turn on you for calling them out.
This is not to say you shouldn't engage with your favorite author on their platforms. That's the whole point of social media – to be social.
Read that again. TO BE SOCIAL.
Not to be rude, stupid, entitled, insulting, harassing, pontificating, or pointing out wrongs or missteps. It is not a place for YOUR opinion UNLESS YOU ARE ASKED FOR IT. It is not a place for your spiel about Political Topic Du Jour UNLESS it is YOUR PLATFORM.
Go wild on your own account about whatever you have feels about. Do NOT go into someone else's house and shit on their floor then get all butthurt when they point your mess out to you.
Authors love to hear your opinions – yes, even negative ones. Those are totally fine. I'm not saying every engagement you have has to be hearts and flowers. Discourse is healthy, as are opposing viewpoints. But as Victoria said up there – just because you don't hear what you want to in return doesn't mean you're being attacked.
And for the love of fuck, don't EVER say to someone "I was just trying to educate you/help you out/point this out to you, I don't know why you don't appreciate me for it, I'll just go because you're mean," or any such nonsense.
Why?
Because that's what fucking abusers say, and it's fucking bullshit.
In case any of this seems to be coming out of the blue, see my post on behaving yourself. This is not a new topic around here.
Now, go off and enjoy ALL THE PUMPKINS.