If you're a regular follower of the Evil Writer blog, you would have noticed that Bitchstress Dreamkiller posts were sporadic last year. And if you follow my personal blog (or me on social media), you might have figured out why: I was really fucking sick for six months last year, starting right after our Evil for Julie fundraiser concluded right until late fall.
Summary: after being batted around different doctors and losing sixty-five pounds, I was finally diagnosed with an autoimmune disease.
Besides the drastic weightloss, the weakness, the pain, the fear that I had some kind of cancer too late to treat, one of the scariest things for me was actually that I stopped writing.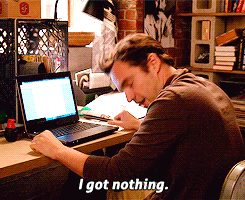 Last year I talked on the ELEW blog a bit about the chronic writer burnout I went through in 2013. I have my average yearly word count up to about 450K – 500K words a year, which means I am due every couple of years for pretty serious burnout and need to recover. The thing about that is, when I'm burned out, I can't make words, but the stories never stop. The characters are still yapping, the stories are still going, I just can't get them out of my head onto the virtual page. Same with depression and life trauma I've been through–no matter what, the characters keep talking and I'm never alone.
But last summer, while I was sick, the voices just…stopped.
I finished rewriting my first published novel, River, for re-release in August–I had to, I'd done a crowdfunding campaign and promised it before I knew that I'd be sick–and I finished a for-pay writing project in July. But by the end of summer, characters weren't talking to me at all. The voices were completely silent. It's like everyone just got up and walked away.
It was terrifying but I was too exhausted to stress much about it.
See, everything, every day, became about doctor's appointments and tests. About conserving spoons so I could try to work and keep paying my bills when I was bed-ridden. I napped and watched a lot of Netflix and read when I had the focus, but my brain was fried from too little food/nutrients a day, and all of my attention was on my declining health.
Probably to conserve mental energy, the places in my brain (which, most of the time, feels like my WHOLE brain) where the fictional people I live with exist and talk to me went dark and silent. Like a wall of monitors with TV shows playing that someone had just shut off.
It was scary but I accepted it was temporary. A writer friend of mine went through dealing with a cancer diagnosis and treatment a year earlier and she'd told me that she went months without writing as she focused on her health. So I had some faith it would come back.
And it did. I was diagnosed and finally began treatment by the end of October, and as I felt better, midway through November the voices suddenly returned. Like beloved friends I hadn't seen in a while, the characters showed up and just started talking, and I literally wept with relief.
If you find yourself going through any kind trauma and serious health issues, I think this is a normal thing that occurs for plenty of writers. The most important thing you can do is not stress and simply have faith that the voices will come back to you.
So here is my advice if you find yourself in a similar position.
Read my post on dealing with long term writer burnout. A lot of the same things apply.
Don't stress about it or beat yourself up. Have faith. Faith in the stories. Faith in you. You've spent years building up discipline and routine; it's okay if you need to take time off, you'll get back there again. Be pressure-free.
Let the voices return when they're ready. In the meantime, fill the well. Read. Watch good stuff. Watch bad stuff. Play games. When you're recovering from illness, you need to be gentle with yourself anyway, and let your mind repair itself just as your body is. Give it outside content to consume–it's like taking your vitamins. (Another reason why patience is a virtue as a writer.)
When the voices come back, don't push it. Just let them talk. Pull out an old piece of writing and re-read it, poke a little at something you had in progress. Do not immediately jump into a large project or think that you have to be churning out thousands of words. I also think it's normal to bounce around from project to project during this time. I cycled through like ten different worlds. Just play a bit and go with it.
Slowly build up the routine again. If you had to take time off of writing for any reason, it's like taking time off of exercise. Every day, I set the timer for fifteen minutes and devoted that time to writing. If I felt like more, great. If I didn't, that was okay too. (Same thing with the treadmill: I had to build up again to even a fifteen minute walk, but I did; now I'm back to running 5K a day, but it had to start with baby steps.)
Remember, you need to recover physically as well as mentally.  Writing is very much a physical act even if it doesn't seem that way. You need endurance and strength to sit at the computer for long periods of time. Your mind might get ahead of your body, but it's okay if physically you can't do much work yet. You'll get there.
I wrote about 140K December – January, while I was recovering from illness at last, after months of nothing. It all came fairly smoothly because I didn't push it–if I'd been stressing out, it would have taken much longer.
Thankfully I have a long history of practicing self-awareness and listening to my gut, so I was ready to write when the signs were there. I'm still not 100%; I have yet to finish any Skyla projects, despite several in progress, like something hasn't quite clicked yet, but I've finished two for-pay ones so I know I'm on my way. A little more time, just baby steps with one foot in front of the other, and I should be myself again.
The unfortunate truth is that most of us will have to deal with something like this in our lifetime, whether it's our own health or worrying about someone else's. So just remember, it's natural if the voices go quiet for a while and they WILL come back again, I promise. Mama Bitchstress wouldn't steer you wrong about this, grasshopper.
Urban Fantasy Writer of Unlikable Female Characters™. Feminist. Snarky Bitchstress. Graphic Designer. Editor. Fifth Generation Cat Lady. Most Beloved Minion. Singer of "The Stabbity Song". Evil.