Hello again, Evil Readers!
Another year has come and gone, and it's time once again for the Evil League of Evil Writers to celebrate its anniversary! Today we celebrate four years of infernal mayhem (technically our anniversary is on April 1st, but as we post giveaways and interviews on Tuesdays, you get this a day early), and in keeping with tradition, we command you to celebrate with us!
For those just joining us here at the ELEW, when we interview someone, we ask a series of Evil Questions, then offer readers a chance to win a creative work of their choice by that interviewee. Our anniversary interviews have a little something special, though – we also bestow upon the interviewee canonization at the end of the interview.
This year we have a very special victim for you – none other than the evil eroticist herself, Tiffany Reisz!
Don't know who Tiffany is? Shame on you!
From her official bio at her website:
Tiffany Reisz is the author of the internationally bestselling and award-winning Original Sinners series for Mira Books (Harlequin/Mills & Boon). Tiffany's books inhabit a sexy shadowy world where romance, erotica and literature meet and do immoral and possibly illegal things to each other. She describes her genre as "literary friction," a term she stole from her main character, who gets in trouble almost as often as the author herself.

She lives in Portland, Oregon. If she couldn't write, she would die.
Today we are most fortunate to feature her as our anniversary interview!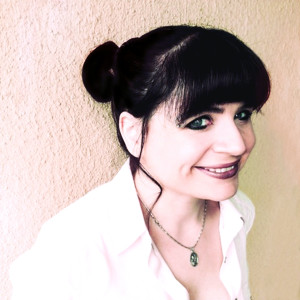 ELEW: Let's start things off right: What's your zombie survival plan?
TR: Die in the first wave. I'm not a survivor. I'm Catholic. Kill me and let me go to the afterlife. Don't make me drink own urine or, God forbid, camp out.
ELEW: If your zombie survival plan could involve taking one of your characters for help, who would you choose to fight zombies with?
TR: Kingsley would be the most helpful in any kind of battle. He's ex-French Foreign Legion and an ex-assassin. He is a masterful sharpshooter and is morally flexible. He'd keep me alive and then we'd have lots of sex to repopulate the earth with beautiful French nerd babies.
ELEW: This website is dedicated to keeping writers from being douchebags, so I'd like to ask you what you feel would be the requisites for a successful writer's group/beta reader/crit partner?
TR: Honesty. Absolute honesty. I want my beta readers to tell me what sucks in my books. I don't need a reacharound. Just give me the shaft and be done with it. I can't fix what sucks if someone's afraid to tell me what sucks. It keeps me humble and it makes for better books.
ELEW: Writers tend to be a little on the physically unhealthy side, what with the constant sitting, and the mentally unhealthy side, what with the suffering for their art. What are your top writer self-care tips?
TR: Near constant masturbation. Or…go running. Andrew Shaffer (my husband) [ELEW Note – also our Patron Saint of Snarkdom] and I are on week seven of a 13-week 10K training plan. We don't actually have any desire to run 10Ks on a regular basis. We just want to move more.
ELEW: Enough with the small talk; let's get naked. I'm not going to ask you the typical "how did you get published" question. What I will ask you is "how did you know you wanted to write?" Was it always something you wanted to do?
TR: Pretty much it was always something I wanted to do. I remember dictating stories to my mom before I could even write them down. I remember writing scripts for TV shows I loved in middle school. In college I tried writing a middle grade novel but because I'm me it had a lot of weird sexual tension in it. When I was in seminary I started writing dirty Jason Isaacs fan fiction for the fun of it. Then the writing became so much more important than my classes. That's when I quit seminary, got a job, and started working on my first novel THE SIREN in earnest.
ELEW: Which of the Original Sinners is most evil and why?
TR: Absolutely has to be Søren. If Nora is the Queen on the chess board and Kingsley is the King on the chess board, Søren is the man playing the board against himself for the fun it. Whenever a book is lacking that special something, I know I need to go back in and have Søren mastermind one of the plot elements. He's basically God in human form and just doesn't know it.
ELEW: Most of the men in your books are hot, rich, and bisexual (oh, yeah!). Where the hell are lowly evil humans supposed to find such creatures?
TR: If I told you where I keep all the hot bisexual dudes, I'd have to kill you. Supplies are limited. I have to protect my stash!
ELEW: Other than the above, what do you think was the most evil thing you did to your readers during the series (i.e. a scene or cliffhanger you felt was particularly nefarious)?
TR: Probably the cliffhanger ending of THE PRINCE. I looked at it a dozen ways and there was no way to end the book except on a cliffhanger. So since it had to be a cliffhanger, I made it the most evil cliffhanger ever.
ELEW: Which character of yours speaks to you the loudest? This can be either the most insistent character or the one that just wants things their own way all the time. Answer can be the same for both!
TR: Kingsley is the biggest scene stealer. Sometimes I have to stop myself from giving him all the best jokes. He was supposed to be a minor character, never intended him to be a major character and then THE PRINCE came along and he stole the book right out from under Nora. I love when that happens. His story was so much more interesting than hers, so much darker and sexier and more fun to write. Kingsley's standing over my shoulder nodding his agreement. He knows. He gets it.
ELEW: When discussing our own evil idols, the name Tiffany Reisz popped up as one we universally agreed is a writer of the evilest kind. Who is the evilest writer you can think of, one whose evil you aspire to yourself?
TR: The evilest writer I know of is Iain Pears who pulled off the mindfuck of mindfucks in AN INSTANCE OF THE FINGERPOST. If I could write a book one-tenth as badass as that book, I could die a happy woman. I'd never been so heartsick and so overjoyed by a book. It stole my life for a week.
ELEW: What is the evilest thing you feel you've done in one of your books? What is the evilest thing others have claimed you've done?
TR: Hard question! The evilest thing I did in a book was probably the mindfuck in THE SAINT when I tricked a huge portion of my readers into thinking I killed off their most favorite character. The thing that's gotten the most readers riled up is when said favorite character fathered a child. I couldn't help myself. I wanted him to pass those weird kinky beautiful genes of his on.
ELEW: You've had a bad day and head to YouTube to watch adorable animal videos. Kittens, puppies, pandas, or other: which do you pick first? This has absolutely zero effect on your evilness, of course, unless you pick human babies.
TR: Kittehs! Always kittehs! After kittehs, baby sloths.
ELEW: We're all tempted at some point to snoflake out and act speshul when we shouldn't. Have you ever given in? Can you share with us your own embarrassing speshul snoflake moment? We'll kill the witnesses afterward, if you like.
TR: I completely forgot to register for a conference once and by the time I remembered the conference was closed. This was a problem because I already had booked the hotel room and flight. I just forgot to register for the actual conference. I emailed and name-dropped everyone on earth I could think of—editor, agent, publisher, Jesus, Mary, and Joseph—anything to get them to make an exception for me and let me register. I'm not proud of it but it worked.
In a reverse special snowflake moment I accidentally embarrassed the crap out of someone at a conference. I wanted her book because it was about a subject I was interested in. I told her I was writing a book and I thought her memoir might be helpful for my research. She said, "Good luck with your book. Getting published is really hard but if you really work at it, you'll get there." And I said in a very friendly manner, "Oh, this is my seventh book" as in "I agree with you but I've been there." She nearly fell out of her seat with mortification and I felt TERRIBLE. I should have just acted like it was my first book. Poor woman. She was lovely and I didn't at all mean to pull rank on her.
ELEW: Have you ever shot a man in Reno just to watch him die?
TR: Well, not JUST to watch him die.
ELEW: We're going to give a random commenter a Tiffany Reisz book of their choice. Pretending they're a TR virgin (no pun intended!), which would you recommend for them?
TR: If the virgin is scared of kink, I would give them SEIZE THE NIGHT or MISBEHAVING which are my two dirty rom-com retellings of Shakespeare plays. If they are interested in kinky books, then THE SIREN as that is book one of the evilest kink series ever. At least the evilest kink series I've ever written!
Sin on, Sinners!
Tiffany Reisz
Thank you, Tiffany, for your awesome!
Each year on the ELEW's anniversary, our Evil Interviewee is canonized. Tiffany Reisz is now recognized among the Evil League of Evil Writers as our Patron Saint of Smexay.
If you would like to declare your allegiance and swear fealty to our Patron Saint of Smexay, she can be found via the following:
Website: http://www.tiffanyreisz.com
Twitter: @tiffanyreisz
Facebook: https://www.facebook.com/littleredridingcrop
[THE GIVEAWAY PORTION OF THIS INTERVIEW IS NOW CLOSED! CONGRATULATIONS TO WINNER KIRSTY!]
Now, readers, it is your turn to be awesome and share in the glory that is the ELEW's Anniversary Celebration. We're going to buy one lucky winner their choice of a paperback copy of any of Tiffany's books (some exclusions – like the super-rare versions! – apply. Limit: $20. The ELEW is not wealthy and we have to pay for shipping too!) from Powell's Books and send it your way.
To enter, leave a comment on this post. Include the words "Tiffany is Evil" in your comment and you'll go in a random draw. (Comments without these words will not be eligible for the draw, so if you want to just comment and not be entered, there you go!) Winner will be chosen next Monday (April 6) via the Random Number Generator and announced with Dina's regular blog post. Be sure and leave us a way to contact you (i.e. fill out the email address part of the comment login!), so that we may get your pertinent info to send you your prize! We're not chasing you down to give you your evil awesome!