You know that saying "haters gonna hate?" Well, spammers gonna spam.
To quote Forrest Gump – "Stupid is as stupid does." And you can't fix stupid.
Regular readers will know that the comment policy of the Evil League of Evil Writers specifically states that we reserve the right to mock asshats who don't play nicely, and spamming is just such a violation. Yes, the comment policy applies to email as well.
Despite everything we have showing that this kind of fuckery is not tolerated around these parts – you know, like the blog post I JUST WROTE ABOUT THIS KIND OF THING – Special Snoflake [sic] has contacted the ELEW via our web form to inform us that we may be overlooking their genius. They found us via our anniversary interview with Tiffany Reisz, which tells us that they were likely Googling other erotica writers to spam with their shit. They spent under four minutes on the site; thirty seconds on Tiffany's interview page, the rest composing their email on the contact page. According to our logs, this charming individual has never been to the site before and viewed no other pages.
So…they just came to see us for no other purpose than to spam us with their shit. I mean, it would make sense that if they thought we might be interested in an interview or something, they'd look under the FAQ to see if we're open to that kind of thing, but nope. No, they're not interested in that kind of promotion. They just want everyone to know how awesome they are. Well…
I invoke the Gif of Awesome.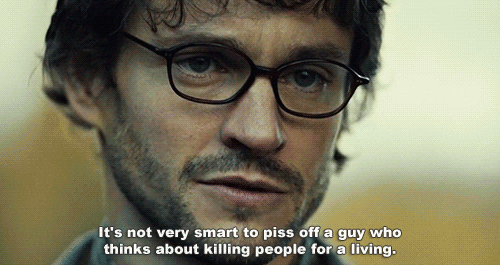 *gets tools* Feel free to squirm and scream, Special Snoflake. This is going to hurt.
Note: This communique has been altered from its original text to protect the individual who has so graciously offered themselves as noms for the education of our readers. Alterations in bold, because "blood" isn't the most legible on the internet.
Name: Special Snoflake [sic]
Email: donttakemeseriously @ yourekiddingright dot com
Comment: I am a UK-based writer of literary romance. I have 8 fiction titles published by Random Companies Run By My Friends. I also have two self-published works on Amazon – 'Generic Sexy Title' – a collection of erotic poetry and artwork, and my attempt to look both scholarly and worldly. I am not sure how 'evil' my work is, but wondered if it might interest you

Time: June 2, 2015 at 6:20 am
IP Address: so.on.to.be.ban.ned
Contact Form URL: http://www.evilwriters.com/contact/
Sent by an unverified visitor to your site.
Now, it might be different in the UK, Special Snoflake, but as far as my research shows (because I do that kind of thing so I can speak eloquently on a subject), "literary" is not a genre of romance. I think you're confused about your category here. Let me 'splain.
No, there's too much. Lemme sum up:
GENRE is a type (also called "category") of literature. "Fiction" is a genre.* Now, that genre is broken down into subgenres – mysteries, westerns, dinosaur porn, what have you. (Hint: This is why YA is not a genre. YA is an recommended age range for that book – the audience the book was written for.) Having said all that, "literary" is not a subgenre of the romance genre. As far as I can tell (again – UK might be different), "literary romance" isn't a thing. Most people just call them "romance novels." Yes, even Nicholas Sparks is categorized as "romance" (or "romantic fiction" if you want to get nitpicky about it). Own your genre, Snoflake!
Now, on the off-chance you contacted us here at the Evil League of Evil Writers in that you thought we might be interested in interviewing you as an erotica writer since we interviewed Tiffany Reisz, it is clear from your site hits that you didn't even bother learning about us here at the ELEW. You didn't hit our "about" page, or our "FAQ" page, or any other page that would have answered your questions. Oh, but you didn't have any questions to ask US, did you? You should have. You should have asked if we were open to more interviews, or had a queue (you're based in the UK – you know what a "queue" is) you could possibly join. Instead you just left us your name and credentials and said you might interest us.
Snoflake…this is akin to a salesperson leaving their unsolicited business card under your glass at a bar with a wink to give them a call. Bad form. Don't do this. If indeed you wanted us to interview you or look at your work or whatever (which again you would have realized what we do here if you'd bothered to visit any other page on this site), one generally phrases requests in the form of a question. They don't just toss out their name and say "I might interest you." AGAIN – if you'd bothered to look at ANY OTHER PAGE on the site, you'd have seen that we not only do not tolerate this kind of fuckery, we're not the kind of site you think we are. We are, however, likely the only one you contacted with your sales pitch that will respond to you in any way. (And we're only doing it for educational and entertainment purposes, so…yeah.)
Special Snoflake, I can tell you without even looking you up that your work will not meet our definition of evil in any way, and I can assure you that it will not interest us in the slightest.
Thank you for the rant fodder. It's been a little overwhelming around the HQ lately, so I missed my scheduled post yesterday. This totally makes up for it.
Note to our regular readers/Evil Writers In Training: I shouldn't have to say it because I know you all know better, but don't do this. Don't contact random websites you think "might be interested in your work" and give them your links without even bothering to get to know who they are and what they do. I don't know what site or class or whatever these people are getting the "spam everyone you know and everyone you can find with your shit" advice, but it's annoying and wrong. It must be somewhat effective though, because it keeps happening.
Oh, well. I suppose those Nigerian princes really do need that money. I mean, they keep asking for it and have been for years. And the FBI Director is still waiting for me to contact him, and I'm still supposed to contact UPS about that million dollar package and that attorney in the UK for the inheritance I was willed by a long lost uncle.
Spammers gonna spam, yo. Just don't spam the ELEW or ANY OTHER WRITER with your self-promo shit. We've talked about this!
*You may have heard of this silly little debate about "literary fiction" vs. "genre fiction," but it's not new and it's completely stupid. It's just a way for some people to feel superior to other people because they read "serious fiction" like Catcher in the Rye and Slaughterhouse-Five instead of stories about vampires, hellhounds, and werewolves.