Today I have the privilege of writing the birthday post for one of our founding members, my Partner in Eviltry, the Gothic Goddess Dina James.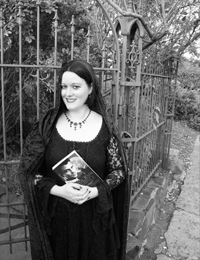 I've written several of these now over the years with the ELEW. They usually amount to me throwing my hands up and saying "Go wish her a happy birthday before I shoot you". This probably will, too.
The thing you need to know about Dina is that she is terrifying.
She will tell you when she thinks you're being stupid (especially publicly—really). She will warn you that she is harsh and only a fool will ignore that (and do ignore…and run right into her; the blood splatter is always epic). What you see is what you get with her–she makes no qualms about that–and the evil she presents to the world is very much based in fact. She may be plotting to kill you when she looks at you, but at least she'll tell you.
And if you have the privilege of knowing her, and of calling her "friend", she will be the strongest, most loyal friend you will ever have. You never have to wonder if you've pissed her off; she'll tell you, and expect you to do the same. You never have to worry about her following through on something she's said; she always does. She demands strength from herself and brings it out in others, leaving those around her better (eviller) people than when she found them.
I would not be here, in part, if not for Dina–and I mean that both figuratively and literally.
When my entire life fell apart this year, when I lost everything, she was the only one who continually gave me hope. She is strong and scary and does a tremendous amount for others–things most people have no idea about, so you'll have to take my word for it. Dina James makes the world a much more evil place and we'd be all the poorer without her darkness.
To the evillest person I know, the Gothic Goddess, the Hannibal to my Will Graham, my Platonic Murder Wife: Happy Birthday.
Also, we are not to use this space for self-promo, however, this is not SELF-promo, so bite me. I talked Dina into re-releasing some of her out of print stories, and I think you should buy copies of Destrati I and Destrati II on her birthday so she doesn't decide it was a terrible idea and blame me.
Urban Fantasy Writer of Unlikable Female Characters™. Feminist. Snarky Bitchstress. Graphic Designer. Editor. Fifth Generation Cat Lady. Most Beloved Minion. Singer of "The Stabbity Song". Evil.