Happy Very Belated New Year! This was actually going to be my first post back in January but it didn't get written. So it's in the spirit of the New Year except in the latter half of February. Deal with it.
When news first broke about David Bowie's death, our Gothic Goddess Dina came online and as we IMed, she insisted it couldn't be right, that it was a hoax (as many were saying). He'd just dropped an album, after all, like two days earlier; how could someone keep mum about dying of cancer while creating and releasing this big album?
Of course, as we all know now, it was true.
Possibly due to a generational thing and that I don't recall seeing Labyrinth until I was a teen, but I guess I didn't "get" David Bowie? I enjoyed a few songs and liked some of the movies he was in, and knew he meant a lot to many people I know, but I didn't mourn the way many others did. It was more a sense of, here is someone beloved by many who did a lot of great things, and I genuinely find it unfortunate he's gone, but I mostly stepped back from the online sharing of grief because I had none.
But I was incredibly struck when it came out that he'd been working on this last album that dropped right before his death all the time he knew he was dying of cancer. That the last album, a reflection of death and dying, was a parting gift for fans.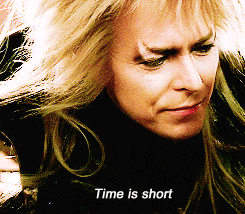 Many times, we die unexpectedly. And that's preferred by many, understandably.
But a lot of people are diagnosed with something terminal and have a much clearer picture of when the clock will run out. To then spend that time creating art, putting together the final piece of your legacy? There is something extraordinary about that.
None of us are getting out of here alive and one of the scariest things I contemplate are the stories I'll never tell. Take a moment to look at the WIPs you have started, the characters and worlds that exist in your head.
When you are gone, so are all the stories you've left inside of you.
Maybe you'll be hit by a bus tomorrow. Or maybe you'll receive some diagnosis that tells you precisely when you're going to go. But one thing we all have in common is that we're going to die, that we're running out of time. And for creative types, that means realizing the length of time you have to create here is growing shorter every minute that passes.
This doesn't mean one should rush or start panicking, but being aware of our choices as writers. We get so caught up in the politics of publishing, about who said/did what, about what others think of how we publish, about bad reviews. We hinge our worth on a star rating and incoherent sentence some stranger says on GoodReads.
Not to go all cliche, but are you really going to be thinking about that when you face death? Or are you going to be thinking about the stories dying with you, that your readers will never know? Consider that maybe you don't need to let all the outside distractions pull you away from your purpose.  You do not need to allow all this other bullshit to live rent-free in your head. You can spend your time creating and enjoying what you create in the face of your impending doom.
Take risks. Cut your own path. Care about the craft. Care about the stories. Fuck the rest of the noise.
Because really, it's how you live that will be left behind when your actual life is gone.